Maintain & sharpening Nippers &
Delicate Beautician Shears to like
new condition using the latest in technology.
The EM2000 machine runs on 3 high power motors.
Operation control chooses table top or side motor.
Direction switch chooses optimum disk rotation for minimal burrs.
Foot switch activates components, providing hands free operation.
Speed dial controls rate up to 7000 r.p.m. for faster sharpening.
Machine Specifications: Available in 110 or 220 volt. Runs on 35 watts.
Size: 7 1/2" x 4" x 5 1/2", weighs only 5 pounds, Can easily be transported.
Two Year Warranty: The Sharpening Company, Inc., warrants the initial purchaser of the product that it will be free of manufacturing defects for a period of two years following the date of purchase. We also stand behind all of our products & services with a 30 day money back guarantee. Your satisfaction is our priority.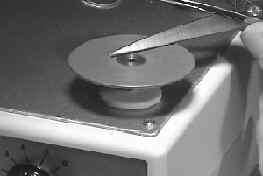 Here we show the first step in the simple 4 step process for sharpening beautician shears.
(1) Hone scissor on diamond disk to remove wear area.
(2) Smooth bevel using the rubber disk.
(3) Finish scissor with the leather disk.
(4) Adjust joint if necessary. (Optional Joint adjustment tools include: screw kit, hammer & anvil, and instrument solvent.)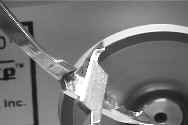 New Diamond Wheel operates on the side driver for easy sharpening of the concave edge of the nipper.
Simply place the inside bevel on the edge of the wheel for a few seconds to sharpen. The process for nippers includes adjusting the joint, reshaping the inside bevel, aligning the cutting edges, finishing the outside bevel, and reshaping the nipper point.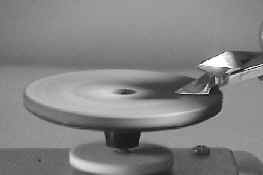 Resin Bond Diamond disk is made of 600 grit quality diamond resin compound. It is much smoother in finishing than the original diamond plated disk. This makes the finishing time for sharpening much more efficient. Used for delicate beautician shears and nippers. You start with the diamond disk, then finish edges with the rubber and leather disks.

The EdgeMaker2000 Beautician set includes:
Machine (available in 110 or 220 volt)
Accessories:
* Honing disks:
1 - Diamond Plated (325 grit)
1 - Leather
1 - RSC Red Rubber
1 - Resin Bond Diamond (600 grit)
* 1 - Diamond wheel (400 grit) with adapter for nipper sharpening on side driver
* 1 - 2oz. EZ-Clean hone cleaner
* 1 - 2oz. TSharp leather finishing compound
* 1 - Latex test squares (set of 10)
* 1 - Equaling Diamond Needle File
* 1 - Arkansas Triangular Hand Hone
Detailed instructional video
Full two year warranty.................................ONLY $849.99
Tsharp, The Sharpening Company, Inc. 3702 W. Sample Street, Suite 1105, South Bend, IN. 46619 phone: 877-487-4277 email: info@tsharp.com
Dental Instrument Sharpening, Dental Instrument Retipping, New Dental Instruments, Orthodontic Instrument Sharpening, Orthodontic Instrument Retipping, Orthodontic Instrument Repair, Medical Instrument
Sharpening, Medical Instrument Retipping, Medical Instrument Repair, Surgical Instrument Sharpening, Surgical Instrument Retipping, Surgical Instrument Repair, Beautician Scissor & Shear Sharpening, Nipper Sharpening, Veterinarian Instrument Sharpening, High Speed Handpiece Repair, Slow Speed Handpiece Repair, Dental Sharpening Equipment, Orthodontic Sharpening Equipment, Beautician Sharpening Equipment, Handpiece Repair Equipment, Retipping Supplies, Retipping Equipment, Repair Supplies, Hands on Training, Training DVD'S, Training Manuals.