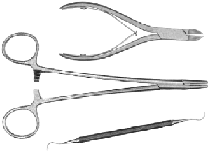 Instrument Retipping
Save Money & Recycle. Quality retipped instruments cost just a fraction of new instruments. You will save money on replacement costs and help save the environment at the same time. And with over 30 years experience, we give you the highest quality. 100% Satisfaction Guarantee.

Wire Cutters (Distal End & Ligature), Needle Holders, & Pin/Plate Cutters: *Our own, specially developed, tungsten carbide inserts are extremely durable. Many doctors claim them to be stronger and better than the original tips.

Dental Instrument Retipping: Scalers, Curettes, Explorers, Excavators, & Probes, etc. *High-Quality 440A stainless steel tips are used to replace the old worn-out tips. "Better than new Quality" at a fraction of the cost to replace the instrument.


Instrument Retipping Charges:

Dental Instrument Retipping* $3.50 per end
*Scalers, Curettes, Explorers, Excavators, Carvers
Burnishers, Composite, Plastic Filling, Pluggers
Dental Probes $7.00 per end
#2 Handle Replacement $6.00
#4 Handle Replacement $6.25
#6 Handle Replacement $6.50

Orthodontic Wire Cutters* $35.00
Distal End & Ligature Cutters.
Needle Holders $35.00
Pin/Plate Cutters $85.00




Dental Service Form
Medical Service Form
Please note:
* Some instruments may not be able to be repaired. We will inspect all instruments and repair only those that can be repaired. There is no charge for our inspection service.
* Some Repairs may require additional charges, such as spring repair or handles replacement.
* Please note: Some dental instruments can not be retipped such as plastic handles & solid one-piece instruments; however, we can replace the handles for less than the cost of buying a new instrument. Also, bands need to be removed for the retipping process.
sharp, The Sharpening Company, Inc. 3702 W. Sample Street, Suite 1105, South Bend, IN. 46619 phone: 877-487-4277 email: info@tsharp.com
Dental Instrument Sharpening, Dental Instrument Retipping, New Dental Instruments, Orthodontic Instrument Sharpening, Orthodontic Instrument Retipping, Orthodontic Instrument Repair, Medical Instrument
Sharpening, Medical Instrument Retipping, Medical Instrument Repair, Surgical Instrument Sharpening, Surgical Instrument Retipping, Surgical Instrument Repair, Beautician Scissor & Shear Sharpening, Nipper Sharpening, Veterinarian Instrument Sharpening, High Speed Handpiece Repair, Slow Speed Handpiece Repair, Dental Sharpening Equipment, Orthodontic Sharpening Equipment, Beautician Sharpening Equipment, Handpiece Repair Equipment, Retipping Supplies, Retipping Equipment, Repair Supplies, Hands on Training, Training DVD'S, Training Manuals.