The Sharpening Company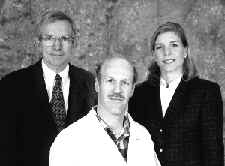 Team for Success.................
The Sharpening Company was founded in 1998 by Robert Magnuson, Ken Dewulf, & Laura Briggs. Together they have developed a strong team to design, develop, and market new technologies. Their goal is to offer the medical community solutions needed to maintain delicate edges for hand-held instruments and tools. They offer the technical support to answer any sharpening/maintenance question.
Robert Magnuson, President, has over 30 years experience in the industry. He was President of RxHoning Corp. for over 14 years. RxHoning, a family operated business, produced sharpening equipment and services for the medical industry. Mr. Magnuson has personally designed and implemented much of the equipment used by RxHoning and TSharp today.
Ken Dewulf, Vice President of Engineering, has over 25 years experience in the industry. He managed the RxHoning sharpening service for over 10 years and is widely recognized as an expert sharpener. Mr. Dewulf has developed special honing processes which have resulted in major manufacturers such as Biomet Inc. and American Orthodontics utilizing his services. His specialties include Orthodontic, Surgical, and Handpiece repair.
Laura Briggs,Vice President of Marketing, has over 15 years of marketing and management experience. She has worked with major department stores and was responsible for significant increases in sales for her products. She has built TSharp customer base to over 2000 customers nation wide.
Products & Services Available..........
Instrument Sharpening & Repair:
Our ultra-sharp edge improves the speed, dexterity, and accuracy of medical procedures.........thus improving the overall quality of patient care. In our full refurbishing laboratory we can sharpen or repair most any hand-held instrument, specializing in Medical, Dental, and Beautician instruments.
Instrument Retipping:
Old points are removed and replaced with new ones, thus saving up to 60% on replacement costs. Retipping is available for Needle Holders, Pin/Plate Cutters, Orthodontic Wire Cutters, and Dental Instruments.
Dental & Surgical Handpiece Repair:
Only $59.99 for a complete overhaul of high-speed dental handpieces. A savings up to 40% over manufacture's service rates. Most brands included. 90 day warranty. We also offer additional repairs, such as replacement of turbines, back caps, etc.
Precision Sharpening Systems & Accessories:
Precision honing technology, developed by The Sharpening Company, can be used to maintain hand-held instruments producing ultra-sharp edges with accurate angles. We offer honing machines, instrument repair parts, accessories, training videos, etc. Our assortment is a complete assortment for maintaining medical, dental, and beautician instruments. All of our equipment is designed, tested, and backed with a satisfaction guarantee. Training is also offered in-house for those wishing to develop their sharpening and repair skills.
Our Full Refurbishing Laboratory, A Commitment To Quality......
The Sharpening Company has developed a quality controlled laboratory for their sharpening and repair services as well as a testing laboratory for new product development. It is complete with a wide variety of sharpening systems and procedures which are specifically designed for each unique type of instrument. Our objective is to produce ultra-sharp edges without altering the original design of the instrument.
Strict quality standards are maintained by our qualified technicians.
The work process includes:
(1) Each job is assigned each a separate work order.
The Sharpening Co. uses great care in handling items so that they are identified with the particular job through out the work process.
(2) Inspection of each instrument before sharpening.
Each item is inspected for excessive wear that prevents restoration to original cutting ability. Items not meeting acceptance criteria are rejected.
(3) Sharpening of the instrument.
If an item passes inspection, then sharpening and repair is performed using special machine honing, hand honing, and hand filing processes. Care is taken to maintain the original shape of the item and to remove burrs created during the honing/filing process.
(4) Quality inspection after sharpening.
Items are inspected for sharpness, absence of burrs, and new product tolerances.
(5) Finishing of the instrument.
Stains are removed from items wherever possible. Instruments are polished to original finish. Items are then packaged in plastic bags and sealed to prevent contamination and protection for shipping.
Save Time & Money...............................
Save Valuable Time: We understand the importance of a fast turnaround on crucial instruments for medical and dental procedures. Our service laboratory has a 2-4 day in-house turnaround for most services. Next day service available upon request at no additional charge. And by providing high-quality sharpening and repair services, accuracy is increased during medical procedures, thus increasing quality & speed of patient care.
Save Valuable Money: Many service companies use our services to supplement their own. We offer low everyday prices below market value, so you can make money and still offer valuable services to your customer without expensive overhead costs. We are also helping the medical community save money. By producing ultra-sharp edges while removing only minimal metal, instruments last longer, thus saving on replacement costs.
100% Satisfaction guaranteed!
blog