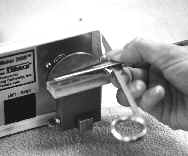 Scissors:
It is easy to sharpen scissors using the side driver and the scissors guide. Simply place the scissor flat on the guide and pull across the hone a few times. The guide is set at a 10% angle which is the angle for most types of scissors. You can also use the tops disk drivers and the flex shaft attachments for special types of scissors.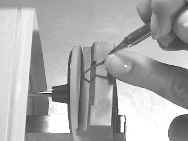 Dental scalers and curettes:
The side driver also includes an angle guide for dental scalers and curettes. Two angle rest are on the guide. One is for scalers and universal curettes, and one is for gracey curettes. Simple line up the terminal shank on the guide and slide across the hone into the rotating disk.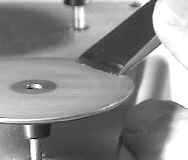 Osteotomes & Chisels:
Simply position on outer edge of honing disk, activate machine with foot pedal, and work the osteotome in and out and both sides. The bench stone is also used to square the edge and produce even bevels.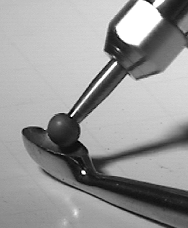 Flex Shaft Kit:
This kit comes in handy when sharpening rongeurs, surgical curettes, punches, reamers, rasps, etc. All you need is the right attachment to fit into the hard to reach spot. The kit comes with a cone, disk, and balls in 5 different sizes, (all in 325 grit diamond).
Pictured is the flex shaft with a diamond ball sharpening a bone curette.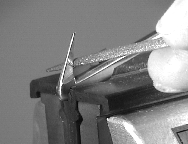 The Accessories kit is used for repairs such as forceps alignment, joint repairs, testing, etc.
Here we show a surgical scissors being re-serrated. Simply lock the scissor in the Swivel Vise and use the diamond needle file to serrate the edge.
Please contact a TSharp representative to learn more about our EdgeMaker2000 Surgical Sharpening System. Thank you.
Click here to return to the Surgical Equipment Page

Tsharp, The Sharpening Company, Inc. 3702 W. Sample Street, Suite 1105, South Bend, IN. 46619 phone: 877-487-4277 email: info@tsharp.com
Dental Instrument Sharpening, Dental Instrument Retipping, New Dental Instruments, Orthodontic Instrument Sharpening, Orthodontic Instrument Retipping, Orthodontic Instrument Repair, Medical Instrument
Sharpening, Medical Instrument Retipping, Medical Instrument Repair, Surgical Instrument Sharpening, Surgical Instrument Retipping, Surgical Instrument Repair, Beautician Scissor & Shear Sharpening, Nipper Sharpening, Veterinarian Instrument Sharpening, High Speed Handpiece Repair, Slow Speed Handpiece Repair, Dental Sharpening Equipment, Orthodontic Sharpening Equipment, Beautician Sharpening Equipment, Handpiece Repair Equipment, Retipping Supplies, Retipping Equipment, Repair Supplies, Hands on Training, Training DVD'S, Training Manuals.